Rivers Alliance of CT Home Page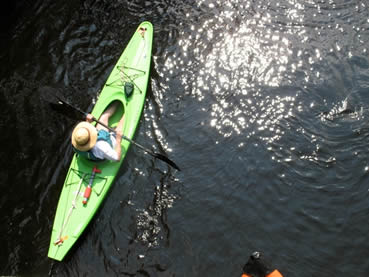 Contact Us
P.O. Box 1797
Litchfield, CT 06759
860-361-9349
rivers@riversalliance.org

Paddling Etiquette
Being considerate of other paddlers, anglers, or anyone else who is enjoying the water body you're on is not only courteous but, often, also a matter of safety. For example, looking upstream to see if another boat is approaching before you pull out into a river can avoid a collision. Here are some paddling etiquette tips.
At boat launches:
Don't park your vehicle or leave your boat or gear on a ramp used by trailered boats. Launch your canoe or kayak away from or alongside the ramp.

Don't park your vehicle in a spot intended for a vehicle towing a trailer.
At other kinds of put-ins and take-outs:
Don't block a put-in or take-out with your boat or gear for any length of time. Move out of the way quickly to allow room for other paddlers.

Offer to assist other paddlers if they need help to carry their boat or gear.
On the water:
Stay clear of swimming areas.

On a whitewater river, if you "eddy out" (that is, cross an eddy line to enter the countercurrent behind a rock or near the river bank), don't be an eddy hog. If possible, make room for another boat to pull into the eddy. If it's a one-boat eddy, don't stay there longer than necessary.

Many whitewater paddlers like to "surf" the waves. Don't hog the wave; enjoy it for a few minutes, then pull out to give someone else a chance to surf.

When pulling out of an eddy or "ferrying" across the river, don't cut off another boat that's coming downstream. Allow them to pass by before you enter the current.

Stay clear of people who are fishing so you don't snag their lines or scare away the fish. If you can't avoid going near them (sometimes the case on a whitewater river), ask them if they prefer that you go behind or in front of them.

Consider not paddling a river on opening day of the fishing season (in Connecticut, the third Saturday of April), because there usually are many more anglers lining the river banks that day than at other times.
On land:
Respect private property. Do not put in or take out on private property unless you have the landowner's permission.

Take out your trash – and perhaps pick up any trash left behind by others.
Wildlife:
Keep a respectful distance from wildlife and nesting areas, so you don't disturb the birds or animals in the area. Coming too close to wildlife can interrupt critical activities such as feeding, caring for young, or resting during migration.

Observe all posted restrictions.
For more information: