Rivers Alliance of CT Home Page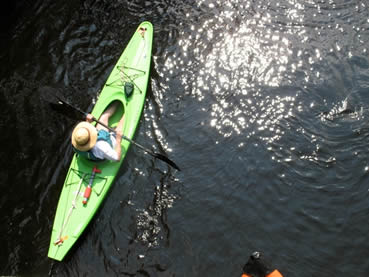 Contact Us
P.O. Box 1797
Litchfield, CT 06759
860-361-9349
rivers@riversalliance.org
Paddling Tips & Information
---
---
Before You Paddle
Paddling on rivers, lakes, ponds, or coastal waters lets you experience the beauty of nature in ways that motorized boating cannot. The only noises are the splash of your paddle — and the sounds of birds, the wind in the trees, the croaks of frogs, the lapping of water against your boat. Paddling is also good exercise and nonpolluting. It can even be exhilarating — for example, running the rapids on a whitewater river.
Paddling, though, can present some dangers if you're not properly equipped and skilled to handle the type of waterway you're planning to paddle.
Before setting out on your trip, be sure you know the following.
---
What Kind of Waterway?
Lakes and Ponds

On lakes and ponds, especially large ones, you might encounter wind, whitecaps, waves, or wakes from motorboats or Jet Skis. You should have the paddling skills to safely handle these situations.

Flatwater Rivers

These rivers can be slow-moving with a barely perceptible current, or have strong currents (in which case, they're often referred to as quickwater). The river might also twist and turn, requiring you to have steering skills.

Whitewater Rivers

These rivers have rapids (turbulence), which are rated on the International Scale of River Difficulty from Class I, the easiest, through Class VI. Whitewater rivers typically have obstacles such as rocks and downed trees that need to be avoided. Generally, the water is the deepest and the current the strongest on the outside of a bend in the river; the shallowest water and slowest current is on the inside of the bend.

For more information about river classifications, visit these sites:

Tidal Waters

Long Island Sound and the tidal areas of the rivers that enter it — such as the Connecticut, Housatonic, Quinnipiac, and Thames — require that you plan for the tide and be aware of shoals, currents, waves, wakes, and boat traffic.

Note that canoes and kayaks do not have the right of way over sailboats or motorized boats. Those craft often have limited maneuverability around docks and marinas, and large boats may be able to operate only in channels. Canoes and kayaks can maneuver easily in smaller spaces and in shallow water. Stay out of marked channels except to cross over.

Also remember that a canoe or kayak sits low in the water, making the paddler hard to see. Wearing brightly colored clothing, hat, and PFD (personal floatation device or lifejacket) will make you more visible. So will paddling in a group.

See these ConnYak (Connecticut Sea Kayakers) publications for more information:
---
What Kind of Craft?
Kayaks and canoes designed for lakes and flatwater rivers typically are easy to paddle in a straight line but difficult to turn. That makes them unsuitable for whitewater, which requires frequent turning. Stand-up paddl boards (SUPs) can be used on lakes, rivers, or even coastal waters, depending on the paddler's skills. Paddleboard yoga has also become popular. Here are sourrces of more information on choosing a canoe, kayak, or SUP:
| | |
| --- | --- |
| | Canoes |
| | Kayaks |
| | Stand-up Paddleboards (SUPs) |
---
Where to Get Paddling Lessons
---
Where to Rent a Canoe, Kayak, or SUP
---
Connecticut Paddling Groups
Paddling with a club or other kind of organization is a great way to make friends, discover places to paddle, and gain paddling skills and knowledge. Here are clubs and other organizatons in Connecticut that offer paddling trips: