Rivers Alliance of CT Home Page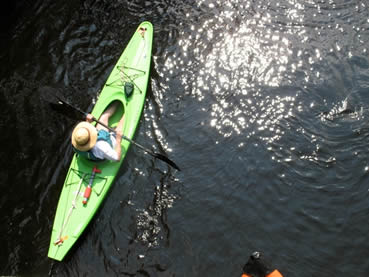 Contact Us
P.O. Box 1797
Litchfield, CT 06759
860-361-9349
rivers@riversalliance.org
Connecticut Paddling News
2017
2016
2015
2014
---
2016
CT's Shetucket River Water Trail is Now a National Water Trail
On June 3 U.S. Secretary of the Interior Sally Jewell and National Park Service Director Jonathan B. Jarvis announced the designation of four new National Water Trails, including CT's Shectucket River Water Trail, adding more than 600 miles to the National Water Trails System. The Shetucket River flows through The Last Green Valley National Heritage Corridor in Windham and New London Counties. The water trail offers 20 miles of paddling within an hour's drive of three of New England's largest urban and metropolitan regions. The major tributaries of the Shetucket River, the Quinebaug River to the east and Willimantic River to the west, have previously been designated National Recreation Trails.
The three other new National Water Trails are the Kankakee River Water Trail in Illinois and Indiana, the Arkansas River Water Trail in Kansas, and the Great Miami River Watershed Water Trail in Ohio.
Click here to read the Interior Department's news release.
---
2014
DEEP Announces all Publicly Available Pumpout Facilities are Free to Recreational Boaters
Effort to eliminate discharges of recreational boat sewage also includes new interactive map with locations of pumpout facilities
Connecticut's Department of Energy and Environmental Protection (DEEP) announced that all pumpout services for recreational boaters along Long Island Sound, and Connecticut's rivers and Candlewood Lake will now be offered free of charge. "Every facility with a publicly available pumpout system designed to capture sewage from recreational boats has agreed to provide this service for free, demonstrating that our marine industry partners have a tremendous commitment to improving water quality and providing top-notch service," said DEEP Commissioner Rob Klee. "We are pleased to see this new policy coming into play just in time for the busy July 4th holiday weekend and we encourage boaters to make use of these pumpout services. We also thank the marina facilities for helping us to keep Long Island Sound and our navigable rivers and lakes clean and healthy for fishing, clamming, swimming and boating."
To help boaters find and take advantage of pumpout services that are available, DEEP has launched a new interactive map showing the location of each publicly accessible pumpout facility and pumpout vessel. The map can be found at www.ct.gov/deep/pumpoutdirectory. The map provides boaters with the latitude and longitude, hours of operation, and contact information for the facility or vessel for a pumpout. The goal is to provide boaters with a faster, more user friendly browsing experience on smartphones tablets or desktop computers.
In 2013, Connecticut marine facilities and pumpout boat programs helped to keep 910,108 gallons of recreational boat sewage out of the waters of Long Island Sound, making a significant contribution to efforts to protect natural resources and aquatic life. Up until now, many of the pumpout facilities had charged a service fee of $5. Funding for this program, known as the Clean Vessel Act (CVA) program, comes from the Sport Fishing and Boating Trust Fund, which is supported by excise taxes on certain fishing and boating equipment and boat fuels. DEEP partners with the U.S. Fish and Wildlife Service and issues grants to marine facilities and programs through the CVA Grant Program. This program helps keep coastal waters clean and safe for recreation by safely disposing of millions of gallons of boaters' sewage annually. The marine facilities provide 25% of the cost of each project.
The Connecticut CVA program serves as a good example to many other States and has been the recipient of numerous awards for its excellence. Since 1993, DEEP has worked in partnership with the US Fish and Wildlife Service, marinas, yacht clubs, boat yards, municipalities, and non-profit organizations to install more than 97 land-based pumpout facilities, 21 dump stations, 19 pumpout vessels and four pumpout vessels associated with marinas for a total of 141 pumpouts to accommodate the removal of recreational marine sewage from vessels to preserve and protect water quality in Long Island Sound. Since that time, all of the waters of Long Island Sound in Connecticut and New York have been designated by the EPA as a federally approved no-discharge area. The CVA program has awarded more than $12 million in grants since 1993 to fund more than 525 projects in Connecticut providing grants to small marine business owners, a valuable service to boaters, and providing improved water quality in Long Island Sound.
It is DEEP's intent to continue funding for these facilities to further improve water quality in Long Island Sound and other boating destinations in Connecticut, including rivers and lakes in inland areas. For more information about the CVA program, visit the DEEP web page at www.ct.gov/deep/cva and select "Grant Program Information" or contact Kate Hughes Brown, BIG/CVA Program Coordinator, at (860) 447-4340 or by email at kate.brown@ct.gov.
---
The Small Boat Shop in Norwalk, CT, Announces Its Expanded 2014 Kayaking Season
Every summer for many years, the Small Boat Shop at 144 Water Street in Norwalk, CT, has run guided kayak trips from its on-water location in Norwalk out to the scenic Norwalk Islands. The Islands are a scenic and popular destination for kayakers, and are convenient to southern Connecticut, Westchester, and New York City. The area is a small craft paradise, with wooded islands and beaches to land on and explore, many birds to see, and enough shallow water to keep the large vessels at arms length. The Norwalk Islands are primarily a mix of town parks and federal wildlife preserves, with a few pieces of private property thrown in. Three of the islands have primitive campsites, and it is also possible to explore a 19th century lighthouse.
This year, in addition to its traditional Saturday kayaking daytrips to the Norwalk Islands, the Small Boat Shop is also running half-day trips on Wednesdays, Fridays, and Sundays, and offers kayaking instruction on two days each month in July and August. The Small Boat Shop also offers trips to other locations. Autumn foliage trips are scheduled on Lake Lillinonah in Newtown, and on the Connecticut River at the charming town of Deep River. The Small Boat Shop can also accommodate requests for guided day trips by kayak in many of Connecticut's other scenic waterways and shore areas. Details can be sen on the website at www.thesmallboatshop.com.
Boats and equipment are provided by the Small Boat Shop. The customer merely has to bring lunch, appropriate clothing, and a sense of adventure. Customers who have paddling skill and want to strike out on their own can rent individual kayaks at the shop and launch from the shop dock. A variety of kayaks and canoes are available for purchase, in addition to the necessary accessories.
The Small Boat Shop has always known that paddling a kayak or canoe is a wonderful way to get out and explore the coast and inland waters. Kayaks and canoes are eco-friendly, and there are health benefits from the gentle, low-impact exercise. Paddlers can get up close and personal in the places that people on larger boats can only see with binoculars.
The Small Boat Shop also sells designs of kayaks, canoes, and recreational rowing boats that are suited for a variety of waters, and the staff can suit a boat to the customer's preference. All of the proper equipment is stocked, including cartop racks and safety equipment. After twenty five years experience, they have installed more roofracks than anybody at the Thule factory. A variety of repairs and installations can be performed at the shop. The skilled staff ensures that customers leave with the proper equipment for their needs and purposes.
Anyone wanting to spend a day on the water in the good hands of the Small Boat Shop can register by phone at 203-854-5223, or in person at 144 Water Street, South Norwalk, Ct. 06854. Full details and a complete schedule are available at www.thesmallboatshop.com.
Since 1980, the Small Boat Shop has been the premier source for anyone interested in sea kayaking, rowing, canoeing, and generally exploring the coast in small craft. Several brands of boats are carried, along with a complete selection of paddlesports and kayak fishing accessories and technical clothing. The on-water location makes it easy to try out a kayak before purchasing it. The staff has a wealth of skill and knowledge and is experienced at picking out the craft that best suits a customer's needs.
---
"Clean, Drain, Dry" Video Shows Paddlers How to Prevent Spread of Aquatic Invasives
The Northern Forest Canoe Trail has produced a how-to video on the "Clean, Drain, Dry" technique. Learn how to reduce the possibility of spreading invasive species when kayaking and canoeing by watching this video.
---
Group Looking to Expand Connecticut River Paddlers' Trail into MA and CT
The Connecticut River Paddlers' Trail is a series of primitive campsites and river access points spanning 240 miles from the river's headwaters to the Massachusetts border. Plans are in the works to extend the trail into Massachusetts and Connecticut. On July 22 - 25, 2013, a small group of paddlers will paddle down the mainstem of the Connecticut River and then connect with the U.S. Fish & Wildlife Service. They will scout existing camping facilities and explore new potential access points/primitive camping areas on the MA and CT sections of the river. If you are interested in participating for all or part of the exploratory trip, email Lower CT River Steward Jacqueline Talbot or call her at 860-704-0057 by June 7.
---
Free Connecticut Paddling Guide Now Available for Housatonic River
The Housatonic Valley Association has published the Connecticut Paddling Guide covering nine navigable sections of the Housatonic River, with 29 access sites starting from Ashley Falls, Mass. to Stratford, Conn. The guide, printed on water-resistant paper, has detailed maps and easy-to-read directions. Descriptions of each section of the river include distance, the type of water flow, landmarks, tributaries entering the section, and warnings where necessary. The guide also has information on the river's history, its health, and plant and wildlife species found along the river. The guide also includes tips on boating safety and guarding against spreading invasive aquatic species. Notes on specific wildlife, recreational areas, historic sites, other pertinent information, as well as photos and illustrations are sprinkled throughout the sections. Click here to download the Connecticut guide and the Berkshire version. Free copies of the print version are available at HVA in Cornwall Bridge, Connecticut Outdoors in Oakville, Clarke Outdoors in West Cornwall, Main Stream Canoes & Kayaks in New Hartford, and The Trading Post in New Milford.
---
Prevent Spread Of Didymo
Humans are the primary vector responsible for the recent spread of didymo. Anglers, kayakers, canoeists, boaters, and jet skiers can all unknowingly spread didymo. The microscopic cells can cling to fishing gear, waders (felt soles can be especially problematic), boots, and boats, and remain viable for months under even slightly moist conditions. To prevent the spread of didymo to additional waters, DEEP asks that anglers, especially those who fish the Farmington River or streams outside Connecticut, and other users practice CHECK, CLEAN, DRY procedures.
CHECK: Before leaving a river, stream, or lake, remove all obvious clumps of algae and plant material from fishing gear, waders, clothing and footwear, canoes and kayaks, and anything else that has been in the water, and look for hidden clumps. Leave them at the site. If you find any later, clean your gear and dispose of all material in the trash.
CLEAN: Soak/spray and scrub boats and all other �hard� items for at least one minute in either very hot (140�F) water, a 2% bleach solution, or a 5% dishwashing detergent solution. Absorbent materials such as clothes and felt soles on waders should be soaked for at least 40 minutes in very hot water (140�F), or 30 minutes in hot water (115�F) with 5% dishwashing detergent. Freezing thoroughly will also kill didymo.
DRY: If cleaning is not practical, after the item is completely dry to the touch, wait an additional 48 hours before contact or use in any other waterway.
The above procedures will also be effective against other unwanted organisms.